SPECIAL PRAYER (DUA)
The following prayer can be used for anything lawful. INSHA ALLAH.

1. Read any SALAWAT / DAROOD of your choice 11 times.
2. Read the following 11, 41 or 101 times: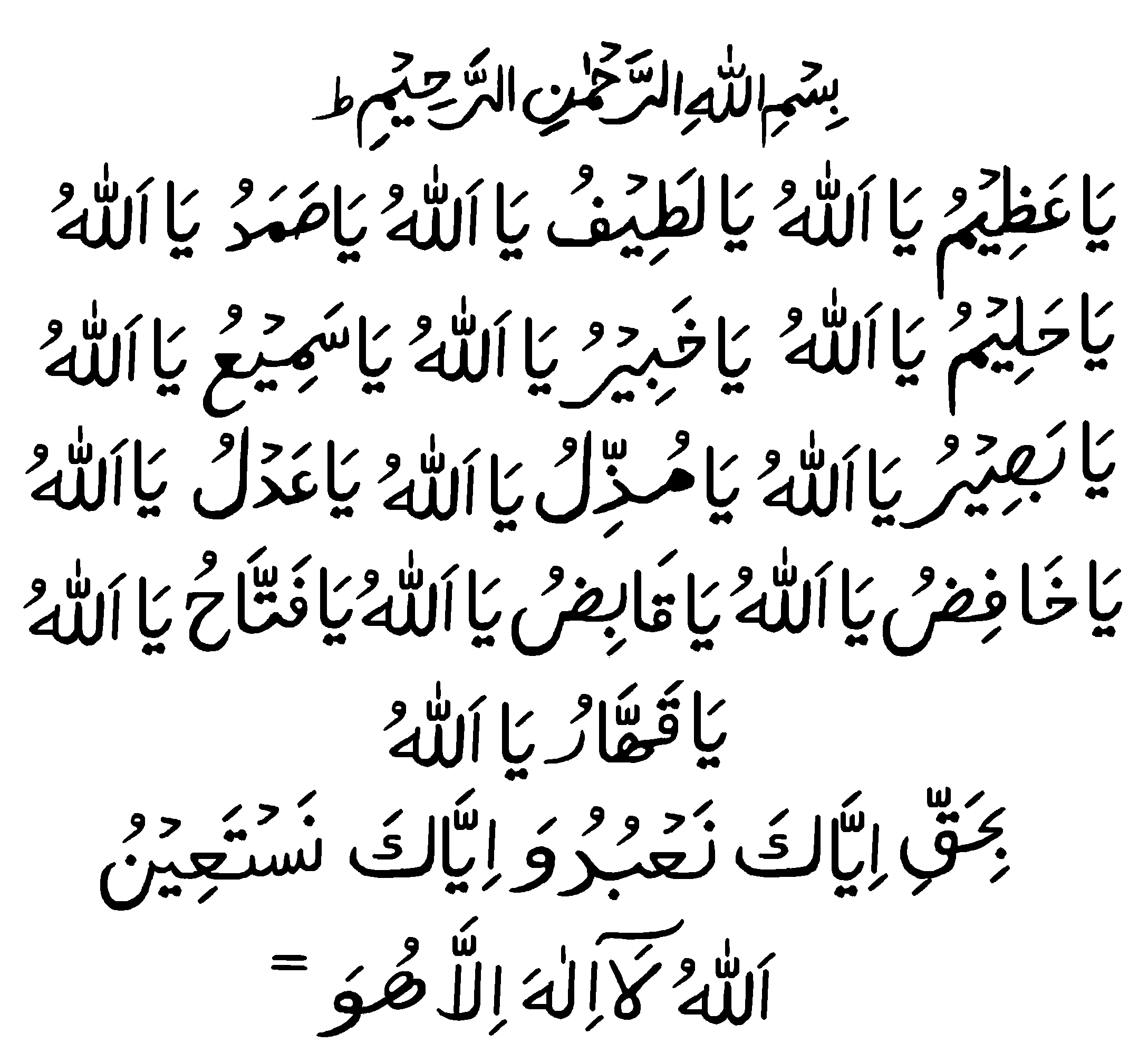 BISMILLAH HIR RAHMAN NIR RAHEEM (Read Once)
YA AZEEMU YA ALLAHU YA LATEEFU YA ALLAHU YA SAMADU YA ALLAHU
YA HALEEMU YA ALLAHU YA KHABEERU YA ALLAHU YA SAMEEU YA ALLAHU
YA BASEERU YA ALLAHU YA MUZZILU YA ALLAHU YA ADLU YA ALLAHU
YA KHAAFIDHU YA ALLAHU YA QAABIDHU YA ALLAHU YA FATTAHU YA ALLAHU
YA QAHHARU YA ALLAHU
BE HAQQI IYYAKA NAABUDU WA IYYAKA NASTAEEN
ALLAHU LAA ILAHA ILLA HU(WA)
(IN THE NAME OF ALLAH THE COMPASSIONATE THE MERCIFUL
MAGNIFICENT ALLAH! SUBTLE ALLAH! ETERNAL ALLAH!
FORBEARING ALLAH! AWARE ALLAH! LISTENER ALLAH!
SEER ALLAH! DEGRADER ALLAH! JUST ALLAH!
ABASER ALLAH! CONSTRICTOR ALLAH! OPENER ALLAH!
SUBDUER ALLAH!
IN TRUTH WE WORSHIP ONLY YOU, AND YOU ALONE WE ASK FOR HELP.
ALLAH, THERE IS NO GOD ONLY YOU)
3. Read again SALAWAT / DAROOD of your choice 11 times.
4. Ask Allah for your wish. Insha Allah, Allah will provide.

HOME