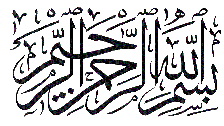 BISMILLAH HIR RAHMAN NIR RAHEEM
THE REALITY OF TAWEEZ
Let us start with the question: What is a Taweez?
WHAT IS A TAWEEZ?
Taweez is a Talisman. Or to put it in another way, Taweez is a Charm.
There are numerous kinds of Taweez. There is one kind which consists of writing Verses of the Quran on a piece of paper or other material. Small rugs are available which have the Ayat ul Kursi (Quran: Chapter 2, Al Baqara, Verse 255) on them. Alternatively the Ayat ul Kursi is printed in beautiful Arabic calligraphy and framed as a photograph. Yet another form is available where it is moulded in plastic with a clock fitted inside this plastic. All these forms of Verse - Ayat ul Kursi, in rugs, in picture frames and in clocks can even be obtained in Saudi Arabia, a country whose majority of population do not believe in Taweez.
DIFFERENT KINDS OF TAWEEZ
Most Taweez consist of a large square or rectangle which is further divided into little squares. For example:
Each little square has either a part of a Verse from the Quran written in Arabic or alternatively, a Verse, or Verses from the Quran which are converted into there Abjad numerical value and the sum obtained is manipulated in a certain way. The result is the initial starting 'number' which is used to fill the small squares. This 'number' is increased as appropriate and that second 'number' is used to fill the second square. And so on.
Here is the catch! There is a sequence in which the squares are filled. They are not usually filled right to left and top to bottom. There is a definite sequence. Therefore simply copying a Taweez from a book is incorrect.
For those who have studied digital electronics will have come across the Karnaugh Map for hardware minimisation. Even that has a sequence for filling in the squares. However, a Taweez does not follow that sequence.
AVAILABILITY OF TAWEEZ
The majority of people in this day and age just copy a Taweez from a book without following the sequence and they charge money for this service. They sell the Ayats - Verses of the Quran for a small gain. Yet they have no knowledge of how the Taweez is made or how the squares need to be filled.
Since they lack the knowledge of the Taweez, they copy the Taweez without checking that the Taweez is correct or it has errors.
These days a lot of books are being printed with Taweez in them. These books are being printed for monetary reasons only. They are not checked by any person who understands Taweez. They are usually full of errors. And then these doubtful Taweez are copied by equally greedy people to give to other people who come to them. The former make their living out of copying Taweez for the latter.
USAGE OF TAWEEZ
The rug, or the picture frame or the clock with the Ayat ul Kursi are hung on a wall in one of the rooms of the house. Why? Because the Ayat ul Kursi offers protection from all kinds of evil and disasters.
Is it not ironic that the people who say "BIDAH" when it comes to Taweez, that they hang these rugs and clocks in a house to protect it? They want to protect from evil and disasters the house that is made of bricks. When it comes to protecting the REAL HOUSE which is the human body, the house of the soul, they say "BIDAH" when someone carries the Ayat ul Kursi on their person! Yet on death, the house made of bricks is left behind, and the house that was inhabited by the soul is buried like a treasure.
It is unlawful to write a Taweez to sow discord between husband and wife as it is clearly stated in Chapter 2 Al Baqara in the Quran Majeed. Generally, it is totally forbidden to write a Taweez which is against Shariat. Yet there are people out there who will do anything for money. Both the instigator and the writer of harmful Taweez will be punished by Allah in this world and the next world.
DO TAWEEZ REALLY WORK?
Let us learn a very simple lesson from science first. We have all come across the term 'DNA'.
The DNA molecule is the genetic code for every cell. And this code is the determining factor in the behaviour of a living organism.
Each molecule of DNA consists of three things namely:
1 Sugar molecule
2 Phosphate group
3 One of four different Nitrogen compounds
Furthermore, with Genetic Engineering, an organism's genetic, or hereditary, material is altered to eliminate undesirable characteristics or to produce desirable new ones.
The above does not answer the question whether Taweez really work. The short answer is YES! They do work. How do they work? To answer that, we need look at the Quran and Hadees.
First of all, we are told in the Quran:
WA NUNAZ ZILU MIN AL QURANI MA HUWA SHIFAA UN WA RAHMATUL LIL MOOMINEENA WA LA YA ZEEDUZ ZALIMEENA ILLA KHASARA(N)
82 We sent down in the Quran that which is a healing and a mercy to those who believe: to the unjust it causes nothing but loss after loss
[QURAN: BANI ISRAEEL, CHAPTER 17]
If scientists can perform genetic engineering and alter the behavioural pattern, so can the Quran as proven above from the Quran. If that is not enough then we can see the DNA code mentioned in Hadees:
Rasool Allah, the true and truly inspired said, "(The matter of the Creation of) a human being is put together in the womb of the mother in forty days, and then he becomes a clot of thick blood for a similar period, and then a piece of flesh for a similar period. Then Allah sends an angel who is ordered to write four things. He is ordered to write down his (i.e. the new creature's) deeds, his livelihood, his (date of) death, and whether he will be blessed or wretched (in religion). Then the soul is breathed into him. So, a man amongst you may do (good deeds till there is only a cubit between him and Paradise and then what has been written for him decides his behaviour and he starts doing (evil) deeds characteristic of the people of the (Hell) Fire. And similarly a man amongst you may do (evil) deeds till there is only a cubit between him and the (Hell) Fire, and then what has been written for him decides his behaviour, and he starts doing deeds characteristic of the people of Paradise."
[Sahih Bukhari]
Note in the above reference the period of 40 days is mentioned three times. Then we are told that the angel is ordered to write four things. Did we not find a similar description for the DNA above? Remember that the DNA is yesterday's discovery. The Quran and Hadees date back 14 centuries.
Another Hadees comes to mind in which Hadrat Aisha (radhiallah) the mother of the believers was asked to describe the qualities and manners of Allah's Rasool (saws):
Hadrat Aisha (radhiallah) said: The quality and manner of Allah's Rasool (saws) were the Quran.
[Tabaqaat, Ibn Saad]
In the above line there is secret being revealed.
This secret is further clarified by Imam Ghazzali (ra) who wrote in his Tahsin al Zunun:
Say to my friends, when they look upon me, dead,
Weeping for me and mourning me in sorrow
Do not believe that this corpse you see is my self.
In the name of Allah (swt), I tell you, it is not I,
I am a spirit, this is nothing but flesh
It was my abode and my garment for a time
I am a treasure, by a talisman kept hid,
Fashioned of dust, which served me as a shrine,
I am a pearl, which has left its shell deserted,
It was my prison, where I spent my time in grief.
I am a bird, and this body is my cage.
From which I have now flown forth and it is left as a token,
Praise to Allah, Who has now set me free.
And prepared for me my place in the highest of the heavens.
Until today I was dead, though alive in your midst.
Now I live in truth, with the grave clothes discarded
Today I converse with the saints above
Now, with no veil between, I see Allah face to face
I look upon the Lawh al Mahfuz and therein I read,
Whatever was and is and all that is to be.
Let my house fall in ruins, lay my cage in the ground,
Cast away the talisman, it is a token, no more.
Lay aside my cloak, it was but my outer garment.
Place them all in the grave, let them be forgotten.
I have passed on my way and you are left behind.
Your place of abode was no dwelling place for me.
Think not that death is death, no, it is life,
A life that surpasses all we could dream of here,
While in this world, here we are granted sleep,
Death is but sleep, sleep that shall be prolonged.
Do not be afraid when death draws near,
It is but departure for this blessed home.
Think of the mercy and love of your Lord,
Give thanks for His grace and come without fear.
What I am now, even so shall you be,
For I know that you are even as I am.
The souls of all men come forth from Allah,
The bodies of all are compounded alike
Good and evil, alike it was ours.
I give you now a message of good cheer
May Allah's peace and joy for evermore be yours.
May Allah Bless Imam Ghazzali (ra) for leaving a treasure of literature for the Muslim community.
From the above references it is clear that the human body is in reality a Taweez itself. The human body is the Quran. In other words, the human body is the 28 letters from Alif to Ya. It keeps the spirit trapped for the time that Allah has ordained for it with that body. Only, at the expiry date is the spirit freed from the body.
Therefore when some of the 'letters' in the human body become corrupted by following Shaytan, a Taweez is used to put those 'letters' back in their proper places. We are all quite ready to believe in genetic engineering, but even after Allah tells us in the Quran that the Quran is a healing and mercy, some people will deny that Taweez are part of Islam.
Taweez must only be used for healing and good. To answer the question Do Taweez Really Work? Yes they do work.
As long as there are people who are influenced by Shaytan, there will always be misuse of Taweez for evil. How do we destroy evil Taweez or even black magic or even evil spells?
DESTROYING A TAWEEZ OR BLACK MAGIC
There are numerous ways that a Taweez can be rendered useless. The proper way to destroy a Taweez is to tear it into four pieces. That is, tear it once vertically in the middle. Then tear the two pieces horizontally so that it becomes four pieces. Read Allahu Samad 101 times on the torn pieces and dispose the 4 pieces in flowing water, such as a river. This will destroy the Taweez and its effects completely, Insha Allah.
If anyone suspects that they are under the influence of 'black magic', or an evil spell then they can follow the following guidelines to overcome the influence and effects:
Read from the Quran, Chapter 82 called Infitaar Cleaving Asunder, eight (8) times, OR Chapter 99 called Zilzal Earthquake, from the Quran eight (8) times before going to sleep.
For those who cannot read Arabic, here is the transliteration of Infitaar and Zilzal:
BISMILLAH HIR RAHMAN NIR RAHEEM
1 IZAS SAMAAUN FATARAT
2 WA IZAL KAWAKIBUN TASARAT
3 WA IZAL BIHARU FUJ JIRAT
4 WA IZAL QUBOORU BU SIRAT
5 ALIMAT NAFSUM MA QAD DAMATWA AKH KHARAT
6 YA AYU HAL INSANU MA GHAR RAKA BI RABBI KAL KAREEM
7 AL LAZEE KHALAQA KA FA SAW WAKA FA ADALAK
8 FEE AY YEE SURATIM MA SHA A RAK KABAK
9 KAL LABAL TU KAZ ZIBOONA BID DEEN
10 WA IN NA ALAIKUM LA HAFIZEEN
11 KIRA MAN KATIBEEN
12 YA LAMOONA MA TAF ALOON
13 IN NAL ABRARA LA FEE NAEEM
14 WA IN NALFUJ JARA LA FEE JAHEEM
15 YASLAU NAHA YAWMAD DEEN
16 WA MA HUM ANHA BI GHAAIBEEN
17 WA MA ADRA KA MA YAWMUD DEEN
18 SUMMA MA ADRA KA MA YAWMUD DEEN
19 YAWMA LA TAMLIKU NAFSUL LI NAFSIN SHAIY AN WAL AMRU YAWMA IZIL LILLAH
[QURAN: INFITAAR, CHAPTER 82]
OR
BISMILLAH HIR RAHMAN NIR RAHEEM
1 IZA ZULZILA TIL ARDHU ZILZALA HA
2 WA AKHRAJA TIL ARDHU ASQALA HA
3 WA QAL AL INSANU MALA HA
4 YAWMA IZIN TU HADISU AKHBARA HA
5 BE ANNA RABBAKA AW HALA HA
6 YAWMA IZIN YASDURUN NASU ASHTA TALI YURAU AMALAHUM
7 FAMAY YAMAL MISQALA ZARRA TIN KHAIRAN YARAH
8 WA MAY YAMAL MISQALA ZARRA TIN SHARRAN YARAH
[QURAN: ZILZAL, CHAPTER 99]
Read either of the above Chapters as prescribed every night at bedtime and ask Allah, if there is any outside evil influence to let you know. If there really is any outside evil influence, Insha Allah within 11 days you will come to know through a dream. If nothing is revealed within 11 days then the answer is obviously, there is no outside evil influence.
If there is any outside evil influence, then when the person sees what / who / how the evil has been influenced, then the spell is broken immediately, Insha Allah. The above is a DO IT YOURSELF method of destroying evil spells and evil Taweez.
I would like to thank M. Faqeer Khan for providing the quote from Imam Ghazzali (ra) May Allah bless him. Ameen.
Finally may Allah guide us and keep us away from any evil footstep. Ameen.
Darood (Blessings) and Salaam (Peace) on Muhammad, His Family, and His Companions
Khalid M. Malik Ghouri
---
---